Dolphin DIamond Amp Master Pumps
3500, 4750 and 6250 models
All Dolphin Diamond Amp Master Pumps are manufactured using one impeller custom designed to operate on each motor as close to 100% efficiency as possible. Dolphin Pumps have completely redesigned the liquid end (wet-end) with parts that are precision molded using state of the art, high tolerance equipment. The highly polished flow channel is designed to move discharge water efficiently with the lowest possible friction rate from rough surfaces and poorly guided water flow. The wet-ends incorporate a custom and unique mechanical seal design, engineered to provide a much higher service life than the seal types found in other pumps. Dolphin Diamond Series wet-ends and impellers are engineered to the highest tolerances and run on the latest generation equipment to produce the extreme specifications using only high performance plastics. 
All utilized polymers selected provide:
Outstanding impact and crack resistance
Service temperature range of 4° - 230° F (-20° - 110° C) Impact strength is reduced at extreme cold temperatures
Unaffected by UV light
Low moisture absorbance
Ph range: 4 - 10
Chlorine Resistant
High abrasion resistance
Flow rates on all Amp Master Pumps may be dialed back with a discharge ball valve (on the discharge side only) to any desired flow rate with no harm to the pump. Amperage rate will drop as flow rate is reduced to your desired rate. The most efficient way to plumb any system is to install a ball valve at the discharge union then a tee fitting plumbing a closed loop manifold with return reducing tees wherever you want a flow return. A closed loop can be any shape or design as long as both ends return to the tee at the ball valve. This ensures even pressure through your return manifold.
All Dolphin Pumps have pre-filter priming pots available for installations where water is being drawn up from source or when pre-filtration of debris is needed. Dolphin Amp Master pumps are the best in quality and efficiency in a pond or aquarium pump. 
3500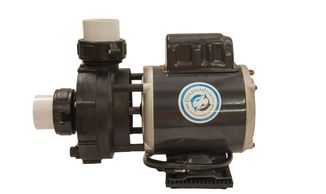 Dimensions 12" x 6 1/4" x 81/4"
Silent, cool running
1/15 HP, 115VT 60 HTZ MOTOR, 1725 RPM
Circulates 3500 GPH without heat transfer
Factory warranty 2-3 years (dependent on seal selection)
Suggested use: 55 gallon and over
Supplied with 1.5" super seal solid unions and anti-vibration pump pad
Watts @ 115 VAC  Average range 103.5 - 115 (dependent on head feet) 
4750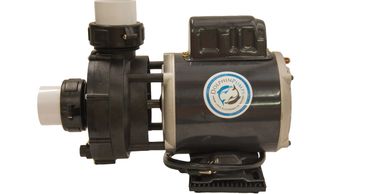 Dimensions 12" x 6 1/4" x 81/4"
Near silent, cool running
1/15 HP, 115VT 60 HTZ MOTOR, 1725 RPM
Circulates 4750 GPH without heat transfer
Factory warranty 2-3 years (dependent on seal selection)
Suggested use: 120 gallon and over
Supplied with 1.5" super seal solid unions and anti-vibration pump pad 
Watts @ 115 VAC  Average range 115 - 173 (dependent on head feet) 
6250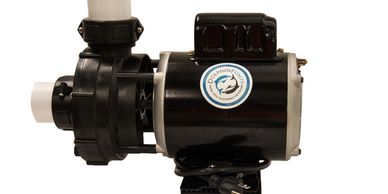 Dimensions 12" x 6 1/4" x 81/4"
Quiet, cool running
1/3 HP, 115VT, 60 HZ MOTOR, 1725 RPM
Circulates 6250 GPH without heat transfer when well ventilated 
Factory warranty 2-3 years (dependent on seal selection) 
Suggested use: 180 gallons and over
Supplied with 1.5" super seal solid unions and anti-vibration pump pad 
Watts @ 115 VAC  Average range 402.5 - 518 (dependent on head feet)